Golf Star™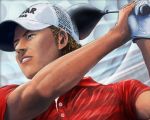 With skills and techniques mastered by real life professional golfers and with stunning graphics, Golf Star™ is the most lifelike android golf game ever! This free game created for Android devices under Older adults category.
Golf Star™ is designed by professionals, for players to experience golfing in the most realistic way possible. Almost 70 real life factors such as terrain height, ball impact angle, temperature and wind were applied to the game in order to capture the physics of a real swing properly. The game also includes skills and techniques of real life pro golfers. Ten different techniques are ready for gamers to use. In Golf Star™, it is possible for players to play in three different modes:
-Career Mode: For playing single player rounds and quests or competing in the NPC tournament.
-1:1 Match Mode: For playing against golfers from around the world.
-Online Match Mode: For competing up to ten players, an online competition.
Golf Star™ is perfectly suitable for golf lovers who want to experience the joy of golfing anytime they want. The game is very vivid and also very relaxing. It is a great way of relieving stress. But for people who want challenge, the game offers weekly tournaments too. And to add more fun to the game, players can show their style by collecting outfits and clothing three different characters. 

You can follow us on
Android Games For+