Hearts Free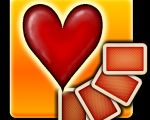 Hearts Free brings the joy of famous and classic 4 player card game to your android phones and tablets. Play your favorite card game with high quality graphics and adjustable settings. This free game created for Android devices under Older adults category.
Hearts is one of the most classic and popular card games of all time. Basically, the rule is to get as few cards as possible. Each heart on your deck gives you a penalty point. There's also a special card, which gives you much more penalty points if at the end of the game it's in your deck.
The game is played by four players. When the game starts you select 3 cards to pass to one of your opponents. Basically you select the 3 worst cards of your deck in order to get rid of them. To which opponent you pass your chosen cards is adjustable, you can change it from the settings.
Hearts Free also features:
Changeable card passing options
18 CPU Hearts players of different skills from beginner to expert
Ability to choose your opponents
Full Hearts play with optional Jack of Diamonds rule
5 backgrounds to choose from
Undo and hint options
Hearts Free is designed both for smart phones and tablets. The game is an enjoyable free time activity for adults and older adults.

You can follow us on
Android Games For+