Paint Joy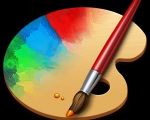 With a lot of features enabling players to use their imaginations, Paint Joy is an excellent drawing app for everyone, especially for adults. This free game created for Android devices under Older adults category.
Do you want to free your imagination ? Do you need a new hobby or something to help relieving your stress ? Paint Joy is the perfect android game for you.
Paint Joy includes more than twenty different and beautiful brushes like glow, glow neon, sketch, chalk etc. Players can draw on a canvas or use the app for decorating their old photos. Paint Joy saves not only the drawing pictures but also users' drawing animation. Players can use movie mode anytime they want to play their masterpieces like a small movie. The app also features easy-to-use brush and color picker, ability to zoom in or zoom out.
For adults or elderly, who like to create things or who need a new hobby, Paint Joy is a wonderful program. The users can share their drawings on Facebook, Twitter, Tumblr or via e-mail anytime they want.

You can follow us on
Android Games For+