Rolling Balls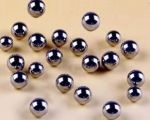 Rolling Balls is a good game to spend time when you have nothing else to do. This game with the balls will increase your skills in performing tasks, especially with the hands. This free game created for Android devices under Older adults category.
Roll the balls by angling your android device to right, left, down or up. The aim of the game is moving all the balls into a black hole on the board. But be carefull with the red ball, you need to keep the red one until all the other balls fell into the black hole. Then let the red ball fall into the black hole. If you drop the red ball before other balls, new balls will come to the game board.
Don`t forget to be fast. Your score will increase as much as you play faster. The size of the black hole will decrease and the number of the balls will increase when you skip into a next level.
You can also choose to play on labyrints from game settings. When you are playing on labyrinths mode, you need to angle your android device and collect golden coins. The labyrinth will change when you skip into a next level.
You can choose to play easier or harder from game settings. If you deactivate the red ball the game will be easier. You can also add other colors of balls to make your game harder.
Rolling Balls is good for adults and also for elderly who want to develop their concentration and dexterity.

You can follow us on
Android Games For+