Stick Hero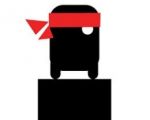 Stick Hero is an android game based upon distance guessing. In the game, players control a character that has to cross over a stick in order to keep moving on. This free game created for Android devices under Older adults category.
Stick Hero is a quick and fun android game for people who need a few minutes getaway. The game seems ridiculously easy but it is actually pretty challenging. In Stick Hero, players try to move their characters forward. But in order to do that, they must have a good length guessing ability. Because there are gaps on the road and players need to use a stick that is long enough to cover up the blank spaces.
The character is going from left side of the screen to the right side. When he encounters a gap, players need to estimate the width of the blank space and stretch their sticks until it is long enough to walk on. If the stick is shorter than you need, your character will fall down.
If you are good at length guessing, Stick Hero is a fun and simple game for you. Backgrounds of the game keep changing, which makes it harder to estimate the length of the gap. But the graphics and colors are simple and comforting. Stick Hero is a relaxing but challenging game at the same time. It is a suitable android game for adults and older adults, who want a quick entertainment.

You can follow us on
Android Games For+