Unblock Me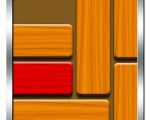 A simple and addictive puzzle game for android mobile and tablet game players. This free game created for Android devices under Older adults category.
In Unblock Me, players need to unblock the red block out of the board by clearing the way. To clear the red block's way, players must slide the other blocks out of the way with minimal moves. There are four difficulty  levels in Unblock Me, ranging from Beginner to Expert. The game includes 14500 puzzles, the highest number of puzzles you can find in any game.
There are also two different game modes in Unblock Me. With Challenge mode, you can push yourself a bit more or you can choose Relax mode to lay back and have the joy of solving your puzzles. Challenge mode gives 3 stars for each puzzle you solve. With replay option, you can always try to earn all three stars in each game. There's also a ranking system and achievements added to the game to keep you challenged.
If players ever need any help, there's a hint option in the game.
For both challenge lovers or people who just want to relax and enjoy for a while, Unblock Me is the perfect choice. Especially  adults or older adults can play the game for getting away from their stress for a while and enjoy in their free time.

You can follow us on
Android Games For+