ABC Phonics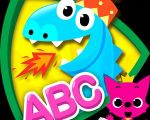 ABC Phonics is really instructional android game created especially for toddlers. This app aims to teach toddlers numbers,letters,spellings,colors etc. It offers the funniest way to educate little minds. This free game created for Android devices under Toddlers baby category.
Music makes big contribution to toddlers development. In this case, we offer ABC Phonics which is perfectly useful android app. This wonderful game is well prepared for toddler`s capacity. Kids will have fun while they are learning letters and their sounds. good game for toddlers and babies.
ABC Phonics ensures really simple kid friendly interface that toddlers easily hande it without your assistance. It also offers bright images and pretty characters that attract your toddlers attention immediately.
Special Features:
-Kids can learn letters A-Z and their sounds
-26 different games that teach new words
-Uppercase and lowercase letters
-Pretty photo frames
-Amazing tracing games
-Clear voice over
-Instructional songs
With Abc Phonics toddlers will improve their memory and motor skills. They start to recognize letters and numbers. Besides they will have great time with its unique songs. This excellent instructional game will meet all your toddlers need.

You can follow us on
Android Games For+