ABC PreSchool Playground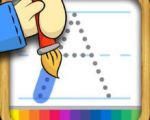 ABC PreSchool Playground is an android game collection featuring 3 educational and fun games for toddlers and preschool kids. This app is a great way of learning and improving skills. This free game created for Android devices under Toddlers baby category.
ABC PreScool Playground consists of 3 different educational games. The goal of the game is to teach toddlers and preschoolers about alphabet and improve their skills at the same time. The game is very colorful and simple for kids to play easily. ABC PreSchool Playground features:Doodling game: Little kids doodle with their fingers to show their artistic skills. Choose from a variety of crayons and start drawing, coloring and do it all over again.
Matching game: In this game toddlers and preschool kids try to match animal tiles. It is a very helpful game for young children to improve their memory skills.
ABC game: Little kids trace the dots and learn the letters of the alphabet and numbers. There are also audio files for each letter and number to help your kids' learning. Toddlers and preschool kids can also color the letters to strengthen their knowledge. This game can improve your little children's hand using abilities too.

You can follow us on
Android Games For+