Animal Puzzle Kids + Toddlers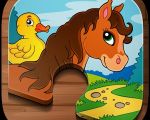 Animal Puzzle Kids and Toddlers is wonderful puzzle game for your toddlers. With its different difficulties and amazing features your toddlers will improve their skills while entertaining. This free game created for Android devices under Toddlers baby category.
Education is really important at early ages. Puzzles are the best way for your toddlers development. In this game, you will find 26 different puzzle games and each of them is funny and instructional.
In this app there are 3 different puzzle variations and your toddlers will have chance to learn different animals. In this game, there are cows,pigs, penguins, seals, elephants, camels racoons and etc. Animal Puzzle Kids Toddlers is a game can be handled easily so perfect for little ages. The game improves your kids perceptions and motor skills. After a while you will see the difference on their concentration and memory. This game offers great improvement on the toddlers abilities.
Animal Puzzle Kids Toddlers has unique colorful animal graphics that your toddlers will recognize the animals easily. Besides when your babies manage to solve the puzzles they will see little stars appear on the screen! This game is perfect for your kids education.

You can follow us on
Android Games For+