Animal Sounds 123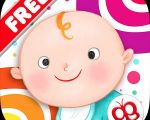 Animal Sounds 123 for Toddler is amazing instructional game for toddlers. This android app purposes to teach little kids different words, correct pronunciations and spellings in funniest way This free game created for Android devices under Toddlers baby category.
Teaching new words and names to a toddler is really difficult period for parents. You should avoid boredom when teaching new things. In this case, This will be perfect for your goals. With Animal Souns 123 android application, toddlers will learn many different objects while they are having fun.
This android app is perfectly appropriate for toddlers with its non confusing steps. When toddlers tap to the photos they will hear its pronunciation. Besides they will have a chance to see spellings of objects which is really instructive feature.
Features:
-135 different HD pictures
-6 different categories such as vehicles,animals,musical instruments etc
-Really clear voiceover
-Parental lock
With Animal Souns 123 android game kids will recognize the new objects, colors and letters easily. They will improve their motor skills. Besides, its amazing colorful pictures and different categories keep little kids entertained for hours. This android game is just perfect for toddlers abilities and flavors.

You can follow us on
Android Games For+