Animal Sounds for Baby and Toddler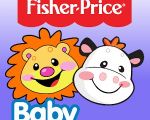 Animal Sounds for Baby is an educational game specially designed for little babies whose above 6 months. Toddlers can learn pretty animals and their sounds while they are entertaining. This free game created for Android devices under Toddlers baby category.
With this amazing game toddlers and babies will get excited about learning animals. This app. offers you a funny way to teach them cute animal`s names and sounds. Besides, this game has clear sounds that your babies can learn correct pronunciation of names.
This game doesn't include complicated menu that your toddlers can control it easily. They should tap or shake the screen and they can start to learn immediately. They tap the screen to see nice animals or they can shake the screen to have fun with dancing animals! While your babies are hearing the sounds of animals their aural skill gets better. With this app. your babies can meet lions, pigs, cows, monkeys, elephants and other cute animals.
Animal sounds game helps your babies to recognize sounds of animals and can be aware of the world. Also, in the end, there will be wonderful music that your babies can dance and be cheerful. With this amazing app. toddlers will be busy long time because their favorite animals will help them to have great time. 

You can follow us on
Android Games For+