Animals for Toddlers Lite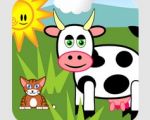 Animals for Toddlers LITE is designed especially for toddlers, aiming to teach them more about animals and natural life. Your toddlers or babies will love animal sounds. This free game created for Android devices under Toddlers baby category.
In Animals for Toddlers LITE, the goal is to entertain toddlers and babies while teaching them about the animals and animal sounds. In the game there are six different locations such as farm, desert, jungle, ocean, snowscape and Australia. Each location has its native animals. For example you can find;
-Horses, pigs, chickens, cows, cats, dogs and sheep in the farm
-Penguins, polar bears, sea lions, whales in the snowscape
-Monkeys, cheetahs, gorillas, snakes, frogs in the jungle
-Lions, camels, elephants, zebras, tigers in the desert
-Kangaroos, alligators, koala bears in Australia
To hear the common sound of an animal, all your toddlers and babies have to do is to touch the animal on the screen. with Animals for Toddlers LITE, your little kids can learn the animals, their natural habitats and their common sounds.  Let your toddlers and babies entertain and educate themselves with this fun android game.

You can follow us on
Android Games For+