Baby Flashcards for Kids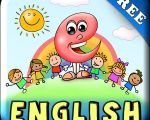 Baby Flashcards for Kids is free amazing educational android game developed for toddlers. This android app is perfect for kids aged between 1 and 4. With this wonderful game and its various categories babies will have splendid time! This free game created for Android devices under Toddlers baby category.
Kids will learn a lot with this unique game. Baby Flashcards helps your kids to learn new words and their correct pronunciations. Also they will have a chance to improve their concentration and memory skills with its game mode.
Android Game Features:
-450 different words and 12 different categories
-Question Mode which provides more fun and challenge to you and your toddlers 
-Brightful images
-Big buttons 
-Perfect voiceover with correct pronunciation
Kids will enjoy with this android game and its colorful images while they are learning new words. Besides, toddlers will be busy for hours with its question feature. You can be sure that your toddlers will spend their times in useful way with flashcards. It is totaly worth to try!

You can follow us on
Android Games For+