Baby Games for Toddlers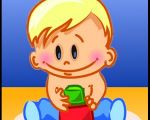 Baby Games is a collection of free games for toddlers. The collection keeps your babies entertained also it is perfect choice for 1 and 2 years old babies. This free game created for Android devices under Toddlers baby category.
Baby Games provides several different parts included Burst the Balloon, Jack in the Box, Whack a Mole, Animal Sounds and Car Noises.
Burst the Balloon: In this part your toddlers will pop the balloons and move them by tapping the screen.
Jack in the Box: When your babies touch the screen, wonderful music will play until the Jack shows up.
Whack a Mole: In this part there is a mole that your kids have to whack it before it is gone.
Animal Sounds and Car Noises: When your toddlers touch the animals or cars they will hear the sounds of them.
Each game will improve your toddlers hand and eye ability. Besides, Baby Games collection has a toddler lock screen that avoids your toddlers go back to main menu accidently while they are spending time with the games. This is a perfect collection to keep your toddlers occupied with perfect colors and sounds. You should try this as fast as you can!

You can follow us on
Android Games For+