Baby Games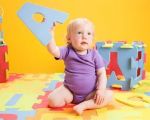 A collection of educational games for toddlers, babies and infants. This free game created for Android devices under Toddlers baby category.
Baby Games consists of five different games for toddlers, babies and even for infants to play. Each game has educational and entertaining sides. These games are ideal for your toddlers, one or two year old babies and even for six month old infants. Also, to help parents, each of these games includes a toddler lock screen to prevent babies from making accidental calls or sending texts unintentionally.
 Here are the games in Baby Games' collection:
Jack in the Box: Includes touching the screen for playing music until Jack appears.
Burst the Balloons: This game features popping the balloons moving on the screen. It's a very helpful game for improving your baby's hand-eye coordination.
Animal Sounds: In this game, there are animals like dogs, cats and other farm animals. Touch the animals in order to hear what each animal sounds like.
Whack a Mole: In the game, your baby should hit the mole before it disappears. This game will teach your toddler and baby to move quickly.
Car Noises: This game shows how cars, planes and trains sound like.

You can follow us on
Android Games For+