Baby Hazel Kitchen Time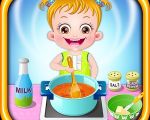 Baby Hazel provides you the most popular game series and Baby Hazel Kitchen Time one of them. In this app, your toddlers and little kids will help this cute baby called Hazel. It will be your addiction! This free game created for Android devices under Toddlers baby category.
In this game, baby hazel wants to cook something and your toddlers will help her in the kitchen. First of all, baby Hazel should go to the store and your toddlers have to help her for buying her needs. For following her commands your kids just have to use their litte fingers. Toddlers can have great time by tapping and touching the screen! After shopping, you should help this adorable baby for preparing foods.
It is really easy game that anyone can entertain with this app. If you wish, you can join your babies to enjoy the moment. Baby Hazel Kitchen Time is fun for everyone! With this amazing app your kids will learn foods, colors, dishes and tools. Besides, meeting hazel's needs will improve your toddlers motor skills.  When your toddlers pass the levels Hazel will smile at them or they will hear Hazel's clapping.
Baby Hazel Kitchen Time is amazing game that keep your baby occupied for hours. Your kids and toddlers will love this games beautiful images, vivid colors and excellent sounds. 

You can follow us on
Android Games For+