Baby Learning Card – Fruit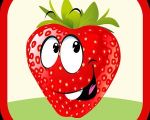 Baby Learning Card is free instructional android game specially created for toddlers. This wonderful game aims to teach babies and toddlers fruits and vegetables in funny way. They will love it! This free game created for Android devices under Toddlers baby category.
Learning names is really important part of early education. In this respect, Baby Learning Card offers you useful way. Toddlers will learn the names of vegetables and fruits easily. They will have a chance to learn names of their favorite foods and shapes.
Toddlers can use this awesome android app by themselves because it has really kid friendly menu. In this android activity babies can see different pictures of all vegetables and fruits. Besides, they will have a chance to see spellings of names and there will be a voice over to teach correct pronunciation to toddlers. And if you wish you can record your own voice to the pictures in this android game. It is awesome!
Special Features:
-       4 different android games that help toddlers to learn names easily
-       Clear voice over
-       HD cards that helps to remember fruits and vegetables easily
-       Bright colorful images
-       Record your voice to the pictures
With Baby Learning Cards, toddlers will enhance their memory skills. After a  while they will be able to recognize vegetables fruits and their names. This android app is really educational and well prepared. Kids will have fun while they are learning their favorite fruits and vegetables.

You can follow us on
Android Games For+