Baby Love Shapes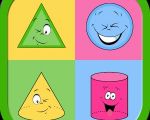 Baby Love Shapes is an educational android game for toddlers. This app. helps your toddlers to learn different shapes with amazing pictures. Kids will have fun while they are learning new things. This free game created for Android devices under Toddlers baby category.
If you want to educate your toddlers in funny way, this android game is just perfect for you. Kids will find many things in one app. Besides, you will have a chance to record your own voice to the pictures and then toddlers can hear your voice. This android game feature makes learning process easier because hearing similar voice helps babies to memorize names fastly.
Your kids can figure out Baby Love Shapes menu because it is perfectly clear. Besides Baby Love Shapes requires simple finger moves from your babies. Toddlers just have to touch the shapes and drug them that's it! All those features make this apps usage functional.
Features:
-       21 different shapes
-       HD pictures that provides efficient way to toddlers while they are learning shapes.
-       Different games
-       Clear sounds
-       2 different modes
With this excellent android game toddlers will show a marked improvement. They will have a chance to enhance their abilities. Baby Love Shapes develops toddlers spatial intelligence in short time with fun. 

You can follow us on
Android Games For+