Baby Pet Vet Doctor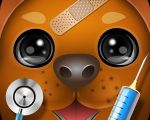 Baby Pet Vet is an excellent android game specially developed for kids.In this app, your kids will help those cute animals for their recovery. This free game created for Android devices under Toddlers baby category.
Kids love animals. Especially baby pets are their favorites. Baby Pet Vet Doctor is full of those cute baby pets like kitties, puppies and baby lions. This game has unique features that adults will love it too!
In this app, those little poor pets got sick and your kids should help them. With your kids attention doctor will cure them easily. Besides, your kids will have a chance to wash or dress up those little pets. With Baby Pet Vet, your kids will spend great time with their favorite animals. This game improves their motor skills while enjoying. It is totally simple game that your kids just have to tap the screen or shake the device for following steps.
Seeing those adorable pets happy will make your kids happy. This app has bright colors and cheerful sounds that keep your kids occupied for long hours. You can look for other baby games in our toddlers category.

You can follow us on
Android Games For+