Baby Sorter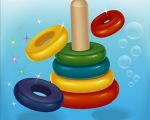 Baby Sorter is a great game that will be very useful for your toddlers and babies development. With this educational game, your toddlers have great time. This free game created for Android devices under Toddlers baby category.
Early learning is really important for child development and education. As a parent, you don't want to miss anything important to help them in this difficult period. Baby Sorter aims to teach babies basic skills and enjoy them at the same time. With this app, your little kids are going to learn shapes, colors, sizes and numbers easier. Also, when your babies achieve the targets they will see the funny colorful balloons!
In addition to all these, the game allows your toddlers to understand concepts like order, repairs and beauty. Baby Sorter provides improvement on your babies motor skills and studiousness.
Your little babies can easily control this game because its menu is perfectly easy and proper for little ages.  Also this activity includes bright funny images that can easily take toddlers attention. Baby Sorder is really instructional app for your toddlers. If you want to educate them with fun you should try this amazing game. 

You can follow us on
Android Games For+