Best Game for Toddlers Puppy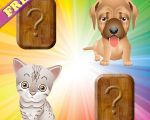 Best Game for Toddlers Puppy is wonderful matching game for toddlers. Kids are going to enjoy with this android app and its amazing features. This game offers your toddlers amazing collection of cute pets. This free game created for Android devices under Toddlers baby category.
Kids adore animals. Especially dogs and pets are the best. In this andorid game, your toddlers will have a chance to experience playing with their favorite animals. If your kids love puzzle and matching games we offer you this wonderful game to educate them easily.
Learning and Controlling this app is really easy so you can be sure that your toddlers won't have difficulty in playing. Toddlers just have to find the couples of puppies and match them. Besides Best Game for Toddlers Puppy provides different leves. If your toddler is a quick learner you can always change the level.
This wonderful android game will improve your toddlers memory and concentration skills. Kids also will develop their problem solving skills. If you wish, you can always join your babies adventure. It is a great app to spend time with them!

You can follow us on
Android Games For+