Christmas Fun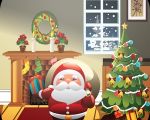 Christmas Fun is wonderful android game developed for babies and toddlers. This amazing app aims to keep your toddlers busy in funny way. Toddlers and babies will love to help Santa Claus! This free game created for Android devices under Toddlers baby category.
Kids love Christmas, Santa and his presents. In this case Christmas Fun  will be your toddlers favorite app. They will be able to spend time with Santa all the year. Get yourself into christmas spirit and have fun!
Christmas Fun is perfectly appropriate for toddlers capacity. However, in the beginning you should help your toddlers to touch the buttons correctly. This android app has perfectly clear rules. Your toddlers have to help Santa to pop present boxes. Kids can touch Santa or pine tree. It's full of fun!
This magical app will provide you quality times with your babies. You will become close friends while you are assisting them.Besides kids will have chance to improve their motor skills. Christmas Funs amazing colorful images will make it feel like real Christmas. Babies will be busy with its terrific sounds in useful way. 

You can follow us on
Android Games For+