Dino Maze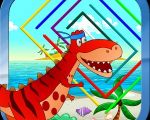 You toddlers and babies will love this educational and entertaining maze game. This free game created for Android devices under Toddlers baby category.
Dino Maze includes helping little cute dinosaurs to find their way back home through maze. There are 30 different mazes with three different difficulty levels. There are a lot of presents on the roads of the maze. While your toddlers move the dinosaurs in the maze, they can pick up the presents and artifacts and for each thing they collect, there will be a feedback. Feedbacks are colorful and amusing, designed for getting your toddlers' and babies' attention. Besides vivid colors, the game also includes comforting backgrounds and sound effects.
Dino Maze will help your little kids to recognize shapes and patterns, it will also improve babies' and toddlers' both fine motor skills and visual skills. If they want, game enables parents to create their own mazes for their kids.  Dino Maze is a colorful, educational and amusing game to occupy your little kids with.

You can follow us on
Android Games For+