Dinosaur Games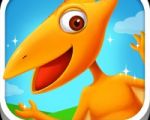 A delightful game for toddlers. Let your toddlers and babies learn numbers, letters, counting while they are having fun. This free game created for Android devices under Toddlers baby category.
Dinosaur Games is a collection of 12 wonderful mini games. Each game aims to educate and entertain your toddler at the same time with the help of adorable dinosaurs. Dinosaur Games collection includes;
-Finding Dinosaur fossils in JurassicPark
-Feeding cute little dinosaurs
-Memory matchings to improve your toddler's memory skills
-Counting flying dinosaurs
-Helping dinosaurs out of the maze of numbers,
-Dinosaur builder game which teaches your toddler to find the correct pieces
-Playing "whack a mole" with dinosaurs
The game also features dinosaur simulators and kid-friendly interface. Designed especially for toddlers and little kids, Dinosaur Games doesn't include confusing settings or challenges. It is a good way for parents to teach some things to their little kids and toddlers, without being boring.

You can follow us on
Android Games For+