Fishes Puzzles for Toddlers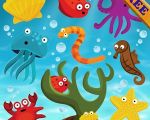 Fishes Puzzles for Toddlers is an educational game for toddlers and kids. With this amazing game, toddlers will learn the animals in the ocean and have fun at the same time. This free game created for Android devices under Toddlers baby category.
Educating toddlers with their favorite animals is the easiest way. In this case we offer you this wonderful puzzle game. While your toddlers are learning basic things they have a chance to see their favorite marine animals.
Fishes Puzzles for Toddlers is a simple puzzle game that aims to teach your toddlers animals and ocean. Kids just have to tap the screen and drag the pieces into the right places. This game is not complicated that your toddlers can easily deal with it.
Fishes Puzzles for Toddlers will surprise you about your kids development. It will improve your toddlers problem solving and motor skills. Besides, it wil make a big contribution to your kids memory skills. This apps bright pictures and funny sounds will keep them busy for hours!

You can follow us on
Android Games For+