Fun for Toddlers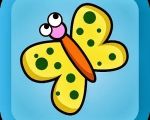 Fun for Toddlers is a puzzle game specially designed for toddlers. The game includes fun and educational sounds to improve your little children's skills while entertaining them. This free game created for Android devices under Toddlers baby category.
Fun for Toddlers is a puzzling game for toddlers. The game includes 7 different puzzle scenes with a lot of objects. There are small symbols of the missing objects at the bottom of the screen and what your little kids have to do is to put those symbols correctly into their bigger sized places on the screen.
The game includes several puzzles and each of them consists of different kind of objects. For example one of the puzzles includes animals like horses, cats, dogs, rabits or birds while another of them includes vehicles like trucks, cars or motorbikes. Each of the puzzles features 7 items that make funny and educational sounds. Your toddlers and babies can learn the objects, their names, shapes and their sounds. Fun for Toddlers also improves your little kids' matching abilities and eye-hand coordinations.
Fun for Toddlers is a highly educational and entertaining game for young children like toddlers and babies. Parents can safely allow their kids to play Fun for Toddlers and let them enjoy and learn at the same time.

You can follow us on
Android Games For+