Games for Kids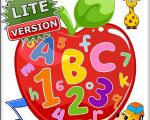 Games for Kids is an android game collection for both toddlers and kids. This app aims to educate little kids while they are entertaining. This game includes different sections and all of those are well prepared for young minds. This free game created for Android devices under Toddlers baby category.
Sometimes, parents should be a teacher for their little babies. In this case, Games for Kids will be a perfect choice for dads and moms. This game is prepared for toddlers educational development. It includes 4 sections. In the first 2 parts show graphics of letters and numbers besides toddlers can hear the names. These 2 parts target your kids improvement and education.
In the other 2 sections your kids can connect the dots and finally they can succeed to write letters and numbers. It is really instructional game that also offers great images. These colors can easily catch your toddlers attention.
This app can be played in 2 different languages. So that your little kids can learn different languages. Games for Kids highly recommended app to play so you can trust this activity for your toddlers learning process. 

You can follow us on
Android Games For+