Kids Alphabet Game Lite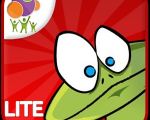 Kids Alphabet Game Lite is excellent educational game for toddlers. Besides, this amazing android app offers them big fun! Kids will learn letters easier with it! This free game created for Android devices under Toddlers baby category.
Learning new words or letters can be boring for young brains. But it is really important part of toddlers education so parents don't want to miss it. In this case, we offer you this entertaining android game. Kids Alphabet Games helps your toddlers development in funny way.
 Features:
-      Toddlers can learn letters real sounds and attractive images
-      Game serves 5 different games and each game aims to improve toddlers skills
-      Toddlers can easily control this game with its big buttons and cute interface
-      This android app also provides colorful images that draw toddlers attention easily
Kids Alphabet Game will help your kids to improve their abilities. This activity will affect your toddlers memory skills in positive way. They will make a progress in their creativity and concentration. Besides, they will have splendid time!

You can follow us on
Android Games For+