Kids Connect the Dots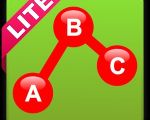 Kids Connect the Dots is an awesome educational game for toddlers and preschool aged kids. This android game teaches your toddlers alphabet and numbers in funny way. Kids will spend amazing time while they are connecting dots. This free game created for Android devices under Toddlers baby category.
Early education is really important for child's development. In this case, parents should be careful about choosing the correct application for their little ones. Kids Connect the Dots offers you great opportunity to educate your toddlers in entertaining way
In this game, kids will tap or connect the dots and then they will hear the pronunciation of letters. If they manage to connecting, dots will transform into a letter or number. Finally, the things your kids create will improve their knowledge.
Kids Connect the Dots will help your kids to improve their creativity Besides, they will have a chance to learn letters numbers and their pronunciation in a cheerful way. Toddlers don't have to deal with complicated rules in this app, It means that Kids Connect the Dots just focuses on your kids development so you should try it immediately!

You can follow us on
Android Games For+