Kids Dinosaurs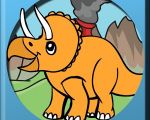 Kids Dinosaurs is the perfect example of dinosaurs games. This amazing android app aims to help your toddlers spend their time better. Kids will love playing with dinosaurs and learning their names with marvelous sounds! This free game created for Android devices under Toddlers baby category.
Kids love dinosaurs especially for little boys they are the best! This wonderful free game offers toddlers their favorite animals in educational way. Also its simple interface helps toddlers to control this game trouble free.
Kids Dinosaurs has amazing images and vivid colors. Besides this app comprises really good voice over. In this aspect, kids will have a chance to hear correct pronunciation of dinosaurs names. All they have to do is tapping the buttons of those funny animals. Then they will start to learn dinosaurs and improve their abilities rapidly!
Kids Dinosaurs provides many different kind of dinosaurs such as:
Lufengosaurus, Tyrannasarus, Triceratops, Stegosaurs, Ankylosaurus, Archaeopteryx,Woolly Mammoth and Protoceratops. 
You can download this android app just for fun or education. We are sure that your expectations will be met. Kids Dinosaurs is going to help your babies to learn using mobile devices with its simple usage. On the other hand, toddlers will improve their motor skills and have fun at the same time. With this app toddlers are going to be dinosaur fan!

You can follow us on
Android Games For+