Kids Doodle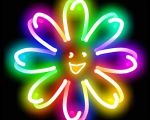 Kids Doodle is a drawing game specifically designed for little kids like toddlers and babies to paint on photos or canvasses easily. This free game created for Android devices under Toddlers baby category.
Kids Doodle aims to improve your toddlers' and little kids' drawing skills and motor skills by mixing education with entertainment. In Kids Doodle your little kids can paint on photos or empty canvasses using colorful and beautiful brushes.
The game includes 18 brushes such as glow, rainbow, spray, crayon, neon and ribbon. There are undo and redo options, "movie" mode to play their previous drawings like a little movie, bright colors and ability to continue their drawing whenever the little kids want.
Kids Doodle is a simple android game for your toddlers and babies to improve their drawing skills, motor skills and their ability to use their hands. The game also helps little kids to learn the names of the colors. With bright colors and easy playing, it is the perfect activity for your kids.

You can follow us on
Android Games For+