Kids Fire Truck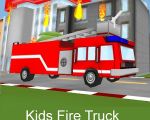 Kids Fire Truck is wonderful android game that aims to help toddlers to have cheerful time. Your little kids will control this cool red fire truck and improve their skills at the same time. This free game created for Android devices under Toddlers baby category.
Kids, especially little boys admire Fireman and Fire Trucks. They want to be fireman when they grow up. In this case, offering toddlers what they want in android game is really useful way to educate and entertain them. With this free game children will spend their times amazingly funny.
Playing this androd game is so simple. Toddlers just have to use their little fingers and save the burning town. You can totally be sure that this android app is perfectly appropriate for kids over the age of 1. Kids Fire Truck doesn't include complicated interface so little kids can entertain with this game without your assistance. It means, this amazing game provides amazing time both you and your toddlers!
Kids Fire Truck android game provides unique images and vivid colors that draws your toddlers attention immediately. While your kids are enjoying with this game they will make a progress on their skill development. Besides, this app is really useful for your toddlers concentration skills and reflections. So lets make them feel like a hero of the town!

You can follow us on
Android Games For+