Kids Glow Doddle with Stars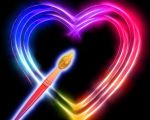 Kids Glow Doddle with Stars is amazing painting game created for toddlers. This android game gives a chance to your toddlers have fun with sparkling stars. Your kids will become more imaginative with this activity! This free game created for Android devices under Toddlers baby category.
Painting with android tablet has unique importance of your toddlers education. They express their feelings easily while they are drawing. In this case, this awesome android app will inspire your toddlers.
Kids Glow Doddle with Stars has perfectly simple menu that never confuses your kids. They can easily handle it and make art with this amazing app.
Features:
-11 different types of brushes
-Glowy sparkling brushes
-You can load your own pictures
-You can save paintings
-For clearing  the paintings just shake it
-You can take notes
Toddlers will have a chance to improve their creativity and motor skills with this android game. Besides this wonderful android app is perfect for everyone of every age. If you wish you can have fun with your kids and have quality time.

You can follow us on
Android Games For+