Kids Learn Shapes for Toddlers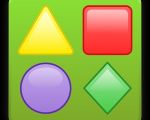 Kids Learn Shapes offers you an instructional game with real life objects . Your toddlers will start to learn shapes with this colorful funny preschool android game. This free game created for Android devices under Toddlers baby category.
Educating can be difficult time to time and you can't be sure that will your toddlers be bored or not while they are learning things. But we are sure that Kids Learn Shapes will surprise you with its unique features.This easy android game has real life objects. It includes triangles, squares, rhombus circles and rectangles with its multicolored images. Your kids can learn shapes and real life objects at the same time!
This wonderful android game helps you to teach your little toddlers shapes with their hand skills. Kids Learn Shapes specially developed for your little children and their educational development.
Kids Learn Shapes doesn't have too many visual warnings that your toddlers won't be easily distracted. Besides, kids can perfectly focus on this game with its simple rules. In this toddler activity, little kids will never lose their interest because they won`t challenge with a complicated tedious game

You can follow us on
Android Games For+