Kids Match Game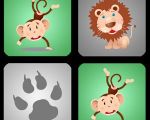 A fun matching game designed especially for little kids. Game For KIDS: KIDS Match'em helps toddlers and preschoolers to improve their memory skills. This free game created for Android devices under Toddlers baby category.
Game For KIDS: KIDS Match'em is an educational and entertaining matching game. In the game, little kids try to find identical pictures and match them. The pictures are chosen from different categories such as;
-Animals: including lions, monkeys, chickens, horses, cows, birds etc.
-Food: including pizza, ice-cream, sandwich, juice etc.
-Objets like glasses, colorful hats, plates, trees, furry toys etc.
The game also features 2 different difficulty levels, changeable size settings, high quality graphics, nice sound effects, and beautiful animations.
Game For KIDS: KIDS Match'em is a suitable game for toddlers and preschoolers. The game also helps them to increase their memeory, fine motor skills and recognizing abilities.  

You can follow us on
Android Games For+