Kids Memory Game Lite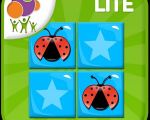 Kids Memory Game is really popular app that aims to improve toddlers memory skills. It is great educational android game designed for toddlers. Your babies will have amazing time with this games different concepts and unique images! This free game created for Android devices under Toddlers baby category.
Early ages is perfect time for learning new things. Toddlers can memorize the names, colors and objects rapidly. In this android process Kids Memory Game will be the best supporter for you. This excellent android app aims to improve your toddlers abilities in funny way. Your kids will be able to learn letters,colors, numbers and shapes with this games amazing concepts easily.
Features:
- Cute bright images
- Different levels and categories
- Simple android interface
- Appropriate for toddlers
Kids Memory Game provides great exercises for memory skills development. Besides, it helps your kids to enhance their concentration and motor skills.
With this amazing android app your kids will spend their time in useful way. Kids Memory Game has various levels that keep boredom out of your toddlers. Also, this app provides cool real sounds of animals and this feature makes learning process easier!

You can follow us on
Android Games For+