Kids Piano Lite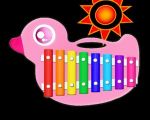 A piano game for your toddlers and babies. The game will improve your little kids' fine motor skills and musical abilities while enabling them to create new things. This free game created for Android devices under Toddlers baby category.
Kids Piano Lite is for toddlers, babies and even for infants to create music and educate themselves at the same time. The game includes different modes and games such as;
Basic Mode: In this mode, toddlers and babies simply tap on the notes to make sounds.
Select Song: In this mode, there are different song choices. Your toddlers and babies can celect a song and start playing it. When kids select a song, notes of the song appears on the screen in an orderly way. Follow the order and play the song correctly.
Game Mode: This mode includes two different choices:
1) Hit the Mouse: Hit the mouse appearing in the note holes to hear the sound of that note.
2) Find Match: With this option your toddlers and babies can play a music related matching game.
Kids Piano Lite helps little kids to learn notes, sounds and improves their memory and fine motor skills.  It's a very lovable, educational, fun game suitable for toddlers, babies and even for infants. Kids Piano Lite is also the perfect choice for parents who want their little kids to learn new things with an enjoyable activity.

You can follow us on
Android Games For+