Kids Preschool Puzzles Lite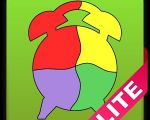 Kids Preschool Puzzles Lite is a delightful puzzle game including many categories to try. The game is very educational and full of animals, numbers, letters and food. Help your kid's learning with entertaining puzzles. This free game created for Android devices under Toddlers baby category.
Kids Preschool Puzzles is a very educational puzzle game for toddlers and preschool kids. The game features different categories of puzzles for your little kids to try. The categories include animals, shapes, letters, food, numbers and more.
All your toddlers and preschool children's have to do is to slide and snap the colorful puzzle pieces into their place. When your kids reveal the whole image, a supportive voice of a lady will congratulate them for their success. Another plus side of the game is, it focuses on one subject. For example, letters puzzle only contains letters. Kids Preschool Puzzles Lite keeps little kids from distracting and over stimulation.
Kids Preschool games puzzles is not only educational but it also helps young children to improve their motor and memory skills. With colorful visuals and easy playing, the game is especially for toddlers and preschool kids. Parents can always choose Kids Preschool Puzzles for their kids to learn and enjoy at the same time.

You can follow us on
Android Games For+