Lego Duplo Food for Toddlers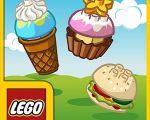 Lego duplo food is a constructive and funny game for toddlers. With this game, your little kids will build ice creams hamburgers and cakes in a cheerful way. The game provides a chance to your kids to improve their skills while they are making food! This free game created for Android devices under Toddlers baby category.
In this game, your little kids will have a chance to run a restaurant, recieve an order from lovely customers like an adorable giraffe or cute rabbit. The most exciting part of this game is your toddlers can make their favorite foods with legos. Kids can build hamburgers, delicious ice creams and tasty cakes according to their orders. Lego Duplo food is a definitely creative game that inspires your toddlers skills. Your babies will learn sense of responsibility while they are taking orders and serving their foods.
Lego Duplo Food provides bright colorful images and cheerful soundtracks that easily takes your child`s attention . Besides, in this game, there are no in-app purchases and links to websites. If your little child loves legos and making things we are quite sure that she/he will love this game.
The game, especially created for toddlers for help them to understand colors and shapes and develop their hand skills. Also, Lego Duplo Food will improve their creativity and you will see the difference in your toddler`s skills at short notice.

You can follow us on
Android Games For+