LEGO DUPLO Train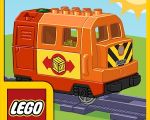 LEGO DUPLO Train includes driving the train from station to station, loading wagons, building bridges and controlling the train's other functions. LEGO DUPLO Train is an educational and colorful android game for toddlers and preschoolers. This free game created for Android devices under Toddlers baby category.
In LEGO DUPLO Train, little kids sit down on train driver's seat and control the train and things related to the train. In the game, your little kids will choose and load the wagons, stop at crossings and refuel the train. There's also some bulding to do. Young children will build bridges and new tracks around rocks.
LEGO DUPLO Train doesn't include any third party advertises, in-app purchases or links to websites. It is a safe android game for toddlers and preschoolers. If your little kids like trains, colorful scenes and creating things, they will definitely love LEGO DUPLO Trains. The game improves young children's imaginations and fine motor skills. It also teaches about shapes and colors.
Designed especially for little kids aged between 1.5 and 5, LEGO DUPLO Trains is a suitable android game for toddlers and preschoolers.

You can follow us on
Android Games For+