LEGO Friends Story Maker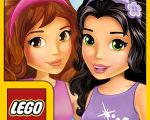 LEGO Friends Story Maker designed for toddlers, preschoolers and little kids to use their imaginations and tell their own unique stories using interactive and colorful ways. This free game created for Android devices under Toddlers baby category.
In LEGO® Friends Story Maker, littler kids use simple tools including drag & drop, stamps, voice recordings, backgrounds, frames, page captions and become the author of amazing multimedia stories.
 LEGO® Friends Story Maker features:
        Mixing and matching over 100 sets, friends, pets and accessories
        More than 15 colorful Heartlake City page backgrounds
        Ability to take a photo of your own unique scene
        Cute and adorable characters to control
        Adjusting the scenes in the way you want
        Different kinds of stamps including music, heart, star, butterfly
        10 colorful and appealing frames
        Recording voice for each page and truly experiencing storytelling
        Option to type texts and choose from various colors
LEGO® Friends Story Maker improves your little children's imagination and encourages them to be creative. The game also teaches your toddlers and preschoolers the names of different objects and help them to improve thier hand-using abilities.
If you are looking for an interactive game for your toddlers and preschoolers, LEGO® Friends Story Maker is a good choice. With this entertaining and educational android game, little kids can learn and enjoy at the same time.

You can follow us on
Android Games For+