Monsters for Toddlers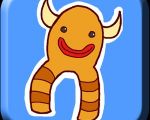 Monster for Toddlers is amazing free android game designed for toddlers.This time the monsters won't scare them. On the contrary, your babies will have great time with those cute creatures! This free game created for Android devices under Toddlers baby category.
Usually, little kids find monsters scary but with this game they will love them! This game has really easy interface that toddlers can easily handle.
In this game your toddlers will push the different buttons to watch dancing monsters. In addition, Monster for Toddlers provides cute musics and funny effects. Those great musics will get your toddlers attention immediately and they will start to sing constantly. We have to remind you that this game may cause an addiction with its unique sounds.
Monster for Toddlers aims to entertain your toddlers. In addition, it has unique beneficial effects like improving your kids aural skills. Besides, with this amazing app your toddlers will learn the different names like colors. Your kids will enjoy with this game while they are learning names. 

You can follow us on
Android Games For+