Music School For Toddlers Kids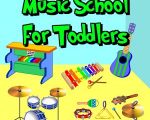 Music School for Toddlers is perfect entertaining android game created for toddlers. This wonderful app aims to improve kids aural skills. Besides, your toddlers will have terrific time with this games funny sounds. This free game created for Android devices under Toddlers baby category.
Music is really important for toddlers ability development. It makes great contribution to your kids imaginativeness. We offer you an excellent app for achieving improvement in your toddlers life.
It is impossible to play all musical instruments at home for your toddlers. Because you may disturb your neighbors or maybe you are not able to provide them all. This amazing app ensures your toddlers different instruments in one app!
With this android game, your toddlers will have a chance to play:
- Guitar
- Piano 
- Xylophone
- Percussion 
- Drums
Your kids are totally free to choose correct instrument for them and have fun immediately. You can be sure that toddlers will be more creative with this funny android app. Also, you will be able to explore your toddlers talents. It is a fantastic activity for your toddlers to keep them busy in creative way.

You can follow us on
Android Games For+