Music School for Toddlers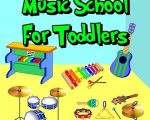 Music School for Toddlers brings five different musical instruments to your little kids's feet. Let your toddlers and babies have fun making music. This free game created for Android devices under Toddlers baby category.
It is not always possible to have five different musical instruments at home. But with Music School for Toddlers, it is possible for your toddlers and babies to play all of them. The game includes five different instruments such as: piano, guitar, drums, percussion, xylophone. Little kids can easily play all of them by touching the screen.
Music draws the attention of almost all little kids. So with bright colors, simple playing and adorable sounds, Music School for Toddlers will be your toddlers' and babies' favorite game. Enable your little kids to have fun with cute colors and comforting sounds while improving their musical skills.

You can follow us on
Android Games For+