My Baby Game (Balloon Pop!)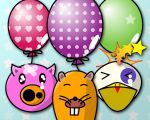 My Baby Game Balloon Pop is free android balloon popping game specially developed for toddlers and babies. You and your little babies will spend quality time together. This free game created for Android devices under Toddlers baby category.
Colorful balloons take babies attention any time. With this game we offer you enjoyable times with amazing ballons. This app provides your toddlers amazing pictures of ballons, amazing sounds and funny animals.
In this game, your babies just have to pop the balloons. However we have to remind you that at the beginings this app can be difficult for your babies. Their skills may not be sufficient for the game so we suggest you that play this game with your toddlers for a while. We are sure that your toddlers will learn the system of this game in a short time and you will see the difference in your babies skills.
My Baby Game Balloon Pop will improve your babies motor skills and keep them busy beneficially. Besides, while you are teaching this game to the little ones you will spend quality time together.

You can follow us on
Android Games For+