My First Words for Toddlers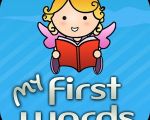 My First Words for Toddlers is a excellent android game developed for toddlers and kids. This game serves audio picture dictionary to teach kids new words in best way. This free game created for Android devices under Toddlers baby category.
If your child is ready for learning new words, we want to offer you a perfect game. With its unique features, My First Word for Toddlers will provide you a big support to teach them words and pronunciations.
This game is really easy that aims improve your kids vocabulary skills and help to remember names. Also with its bright colorful pictures, your kids will never lose their interests.  Besides controlling this game is really easy so it is perfect for young brains and fingers. The game contains great animal sounds, seperated categories of words and slideshows. All these features help them to  learn words easier and faster.
In addition, you can use this app as a story book so it is multi purpose game that offers you and your little kids great time.

You can follow us on
Android Games For+