Paint Game for little Kids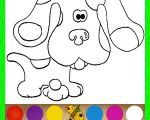 Easy game for toddlers and babies, Just choose the picture and colorize it with touch on screen of tablet or mobile phone, no payment required. This free game created for Android devices under Toddlers baby category.
Your kid can color the images of dog, puppy,crocodile, monkey, butterfly, cats and elephants. This game also helps children to love animals. This android game teach kids how to count numbers and teaches the alphabets. Coloring the images is good activities for little kids, They like to create new things.
This game can be opened in android supported devices. Best part of game is that your toddler don`t need to know technical information. He/She can touch on colored pencils upside of the screen and then click the part of uncolored paper sheets.

You can follow us on
Android Games For+