Phone for Kids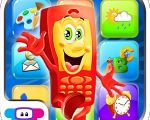 Phone for Kids is one of the largest educational game collections on android markets. Help your babies, toddlers and preschoolers learn with interactive games and fun activities. This free game created for Android devices under Toddlers baby category.
Phone for Kids includes 25 fantastic edeucational games for your little kids to learn new things, enjoy and improve their skills. There are different kinds of games in the app such as:
Color games: Features painting, drawing, and teaching the names of the colors. Your toddlers and preschoolers can improve their motor skills and knowledge about colors.
Animal related games: There are animal quizzes, zoo game in which little kids can see and hear 16 different animals, peek-a-boo with cute animals, aquarium wanders in which young children get to know underwater world with the help of sea creatures
1-12 Numbers Game: In which little minds can learn the numbers and their names
ABC Game to teach about letters and their pronunciations
Direction Games: Direction Compass and Mr. Penguin's Direction School to teach basic directions
Music Based Games: Sing and Learn to teach your toddlers, babies and preschoolers the notes and Kids Guitar to present your little kids 6 strings, 18 notes and 6 animals to play, sing and enjoy
And more interactive games and activities to teach your kids about days, shapes, seasons an a lot of other subjects.
Phone for Kids is specially designed for babies, toddlers and preschoolers. This android game collection helps your little kids to improve their motor skills, hand-eye coordination, musical and hand-using abilities. It also teaches young kids the names, shapes and pronunciations of different objects. Phone for Kids is a highly educational and entertaining for young children.

You can follow us on
Android Games For+