PicsArt for Kids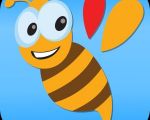 PicsArt is an educational android app designed particularly for little kids to learn and enjoy. The game includes coloring, drawing and at the same time, improving different skills. This free game created for Android devices under Toddlers baby category.
PicsArt is a fun activity for babies, toddlers and preschoolers. The app enables little kids to draw, color and learn.
In drawing option, it is possible to draw on empty canvas or scenes. This activity supports up to ten finger drawing simultaneously. In coloring option, there are fascinating cartoon characters like dinosaurs, cars, princesses and fishes.
Learning: this android game helps your little kids to learn how to draw and color. The app uses shapes, animals and cute figures to teach your toddlers and preschoolers about painting, names of the objects and creating. Also, PicsArt for Kids improve young children's motor skills and their abilities to use their hands. With interactive activities and high quality content, PicsArt is a good pass-time game choice for little kids like toddlers and preschoolers to learn and enjoy at the same time. PicsArt, being a simple and appealing android game, is suitable even for babies.

You can follow us on
Android Games For+