Princesses Games for Toddlers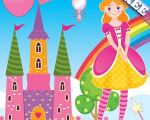 Princesses Games for Toddlers is educational android app specially developed for toddlers. This android game aims to improve toddlers skills in funny way. Little princesses will love spend time with this adorable game! This free game created for Android devices under Toddlers baby category.
Little girls adore princesses. They always want to be like them. In this case, Princesses android Games for Toddlers offers your little kids magical time with cute princesses. Toddlers will be occupied for hours while they are improving their skills. Wonderful puzzles, memory games and amazing princess world are waiting for your daughters in this android game!
This android app is perfect for toddlers capacity. It doesn't include complicated menu that little girls control it without trouble. Toddlers just have to tap the pink jewels and find the couples.
Special Features:
-       Different levels (easy, medium,hard)
-       Easy to control
-       Memory games
-       Bright colorful princess images
-       Funny sounds that draws toddlers attention easily
With Princess Games for Toddlers your little kids will improve their cognitive and memory skills. They will become more creative and talented. Besides, this amazing android app is perfect for whole family. If you wish you can join them in playing. It is usefull android app for your memory too . You will love this instructional game. Have fun!

You can follow us on
Android Games For+